Lifestyle
What's the Best Exterior House Washing Solution?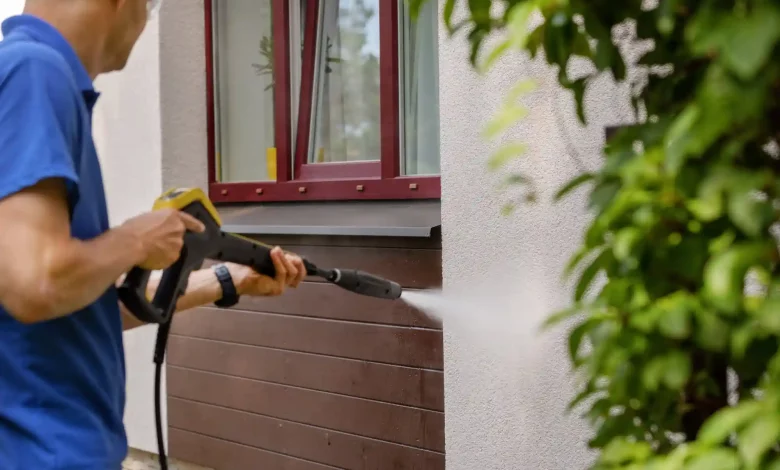 You can't wash your house with a rag and a bucket of water.
You might see people washing outside their houses with a rag or mop and bucket. You might even give it a try once or twice. But, you'll quickly find that manual washing isn't enough.
The best exterior house washing solution comes with a sturdy wand, several attachments, and a wash solution. Without all three, you won't find the great results you want.
If you're wondering how to wash the outside of your house the right way, keep reading for our top tips.
Water and Mild Detergent
Water and mild detergent is a simple and effective solution for exterior house washing. It's environmentally friendly and effective at removing dirt and grime. It can be used on any surface, including brick, wood, stucco, and vinyl siding.
Hot water combined with a mild detergent like dishwashing liquid, liquid laundry detergent, or deck cleaner is an effective solution for removing mildew, mud, and dirt from the exterior of a house without damaging the siding or other surfaces. This method of house washing is also relatively inexpensive and easy to do.
To apply the mixture, use a garden sprayer or hose with a fan attachment to evenly distribute the water/detergent mixture. Rinse the surfaces with plain water afterward for a sparkling clean finish.
Oxygen Bleach Solution
Oxygen bleach is the best exterior house washing solution because it can clean, whiten, and deodorize surfaces without damaging the environment or people. It is a safe and effective way to remove mildew, dirt, algae, and other contaminants from siding, decks, fences, and other exterior surfaces without using harsh chemicals.
This makes it a great choice for homeowners looking to maintain the condition of their homes without risking safety or the environment. Oxygen bleach solution is also biodegradable, so it breaks down naturally in the environment. It won't harm nearby gardens or other vegetation and can be safely used around pets and children.
Vinegar Solution
A vinegar solution effectively removes dirt, grime, and mildew from all exterior surfaces. To create a vinegar solution, mix 1 part vinegar with ten parts water and apply the mixture with a soft-bristled brush or rag.
The vinegar solution removes stains from vinyl siding, wood decking, and aluminum sidings. It has been proven to leave surfaces looking like new.
Best of all, it is both an environmentally safe solution and economical. It is also easy to make and store, making it a convenient choice for anyone looking to do house exterior washing without the hassle of mixing and buying different products.
Pressure Washer
You can use a pressure washer in combination with the right detergent or cleaning solution to clean just about any surface on the exterior of your house. Choose a solution specifically designed for the outdoor environment, such as those designed for pressure washers.
Some solutions may also contain an algae or mildew inhibitor, which helps prevent the future growth of these destructive organisms. Consult a reliable contractor and pressure washing services to help you find and use the right cleaning solution for your home.
Best Exterior House Washing Solution
The best exterior house washing solution will depend on the type of surface, the amount of dirt, and the accessibility for cleaning. All solutions should be chosen with research and safety in mind.
Compare products and look for ones that are environmentally friendly with non-harmful chemicals. Safer solutions cost more money upfront but deliver safe results.
Are you looking for more clean DIY tips for your home? Browse our blog for more!