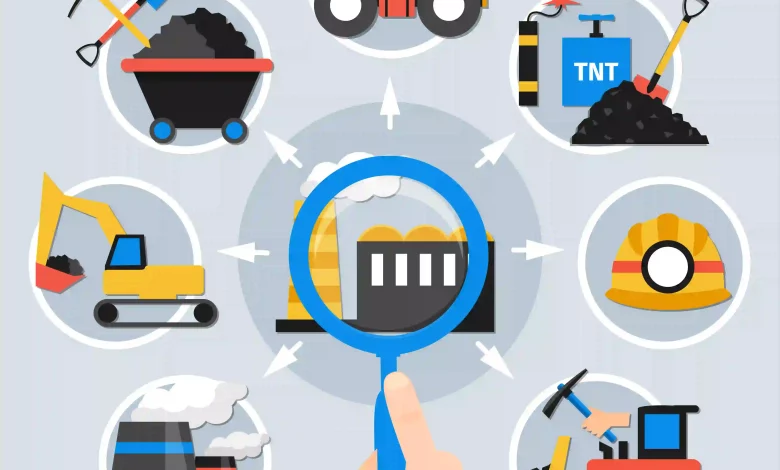 Mining engineering is a complex and challenging field of work that requires the use of a variety of tools so that operations run efficiently. From surveying and mapping tools to software and hardware, mining engineers must be familiar with many tools. Learn about the different types of professional-level mining products that can improve the efficiency of mining operations.
What Is Mining Engineering?
Mining engineering is a sector that comprises the mining of raw materials from the ground and the processing of these minerals into a usable form. It consists of the design, construction, and operation of mines and handling the resources and personnel involved in the process.
These engineers are responsible for the safe and efficient operation of mines and the development of new mining technologies. They must also make sure that the mining process is conducted safely and with environmental responsibility.
To succeed, mining engineers must have a strong understanding of geology, engineering, and economics. These are the different types of products that mining engineering produces:
Precious metals (gold, silver, platinum, etc.)
Industrial minerals (limestone, quartz, gypsum, etc.)
Non-metallic minerals (salt, potash, asbestos, etc.)
Fossil fuels
Aggregates (gravel, sand, crushed stone, etc.)
Building materials
Refractory materials (clay, firebricks, etc.)
Chemical products (sulfuric acid, ammonia, etc.)
Professional-level Mining Products Mining Engineers Use
Mining engineers use various tools to help them plan, design and operate mines. These tools include the following:
Software
Mining engineers use software to analyze data, create plans, and design mines. This includes 3D modeling software, geotechnical software, and mining software.
Hardware
These engineers use computers, tablets, and smartphones to access and analyze data. They also use specialized equipment such as surveying equipment, drilling rigs, and explosives to help them plan and design mines.
Other Specialized Equipment
Engineers use specialized equipment such as core sampling equipment, rock cutters, and rock drills. These help them analyze the composition of the rocks and minerals in the mine. They also use specialized equipment such as ventilation, dust collection, and safety systems to help the mine operate safely.
Benefits of Using Tools
Improved Safety
Mining engineering tools can help to improve safety in the workplace by providing better visibility into the mine's conditions. This can help to identify potential hazards and reduce the risk of accidents.
Increased Productivity
Mining tools have revolutionized the industry, allowing miners to increase their productivity and efficiency. Tools such as hydraulic jacks, rock drills, and blasting machines allow miners to extract minerals more with less effort. Tools such as conveyor belts, ore crushers, and sorting machines help miners to process minerals more rapidly.
Improved Efficiency
Mining engineering tools improve efficiency by providing better data on the mine's conditions.
Improved Quality
By utilizing advanced technologies such as automation, robotics, and computer-aided design, mining operations can be more accurate. Automation allows faster and more accurate extraction of resources. Computer-aided design can help identify and map out the most efficient mining paths.
Use Professional-level Mining Products
Mining engineers must be knowledgeable in using various tools and technologies. This makes a mining operation safe and efficient. From surveying and mapping tools to specialized software and robotics, mining engineers must identify and utilize the right tools. If you are a mining engineer, get professional-level mining products for safe and efficient operations.